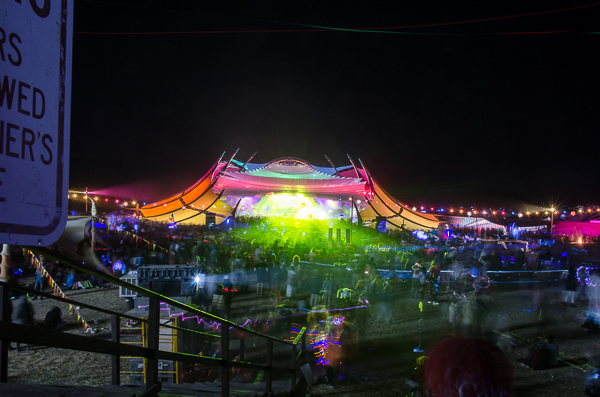 Photos and festival reviews from Lightning In A Bottle 2015.
Article by Justin Olaguer of the Nsubordinate
Lightning In A Bottle (LIB) takes place every year over Memorial Day weekend and is now going on its second year at its new home at the San Antonio Recreation Area in Bradley, CA, and it's is not your average festival. Amid a new rush of these types of gatherings on the West Coast, LIB maintains its reputation despite the growing concern that it was becoming too big or too mainstream.
Events that are labeled as "Transformational" have been quite an interesting take on festivals but not a new idea nonetheless. Looking back a week later after the fog and dust has settled allows for a clearer analysis. The state of decompression and retrospect is not just about reflecting on the music but how embracing different personalities at LIB affects your personal perspective of the world.
LIB still manages to bring together a great crowd. The word was that the festival increased the tickets to 7000 more than last year, bringing in more newcomers-many of them virgin to a campout style party. Definitely the top acts of the weekend were Odesza and John Digweed. Odesza performed with live electro drums and his stunning visuals were perfectly engineered; any other performances at the Lightning main stage that followed this amazing set were left in the dust (literally). Veteran John Digweed closed out the weekend bringing an updated Deep House feel that kept the Woogie stage the most consistent place to dance and let loose. One of the main highlights compared to last year was the building of bridges, shade structures and the bar stages. New Belgium (the makers of Fat Tire beer) definitely was present at these bars which were consistently packed with people and also were promoting a new beer collaboration with the The Do Lab. This was a clear sign that it not only has grown in size but has matured as a festival that has carved out a legitimate niche for itself.
LIB caters to both the Burning Man veterans and the Coachella crowd who struggles to still understand the idea of communal accountability. Some of the downsides this year was that trash became more of a problem along with the Native American headdresses that ignorant folks wear who don't have a clue (both of these issues are clearly addressed in the LIB handbook). All in all, what LIB does is push forward a festival that goes beyond the typical party atmosphere. The main agenda is to promote the arts (visual, dance, and music) and to bring like minded people together, and to enable consciousness in those who seek it with workshops, lectures and yoga. Looking from down from the Meditation Lookout point, one can see that Lightning In A Bottle has lived up to its name again; an immeasurable amount of energy fueled by thousands of people all in a single place of time channeled into a positive vibration for everyone.
Mike Patascil- You're Not "Artsy"er Than Me
Pretentious hipster "festie" that I am, I've frequented Lightning In a Bottle the last few years. Before reading this, just know you're not "artsy"er than me because you shop at Whole Foods and wear open toed shoes. I'm way more "artsy"er than you. Trust me.

LIB is one of those things everyone should experience. The sense of community and good vibes amongst a vast group of people is really unexplainable. There's music, yoga, workshops & speakers talking about crazy psychedelics. The possibilities are endless. I know that every time I go I get something out of it, and 2015 was definitely a year for the books. The weather was perfect. The layout was festie-friendly. The vibes were good as always, and to be extremely cliche for good measure: there was never a dull moment.

The acts were solid but the set-up of the Lighting and Thunder Stage made space somewhat limited. Some acts got so packed you couldn't see shit, and I'm a taller dude. The Woogie, as expected, was the place to be. Plenty of room, shade and those handy misting machines make you never want leave the place.

Since my first LIB a few years back, the Do Lab made major aesthetic improvements to the festival experience as whole. If you went last year you would know those massive ditches between stages sort of ruined the festival for everyone. It was like crossing the Red Sea without Moses' words of encouragement. 100 times. This year they built bridges over those mofos, eliminating those brutal missions from stage to stage.

Overall this party sucked. If you don't like good times, good people and good fun, LIB is not for you. So leave your Native American headdress at home and go ahead and pack your African dashiki. Or some kind of hip ethnic attire to fit in with everyone else and prepare to have a good time. Oh yeah and PICK UP YOUR TRASH. This ain't Coachella.
 
Overall, this party sucked. Nothing but good times, good people, and good fun. There were Native American headdresses aplenty, but I didn't see nearly enough African dashikis or Vaquero's panchos, so overall the quantity of exploitative, "hip" ethic garb was a little low for my tastes. Also, though the number of people carelessly throwing their trash all over the festival grounds was high, it wasn't quite as high as at Coachella or Rock the Bells, which was disappointing.