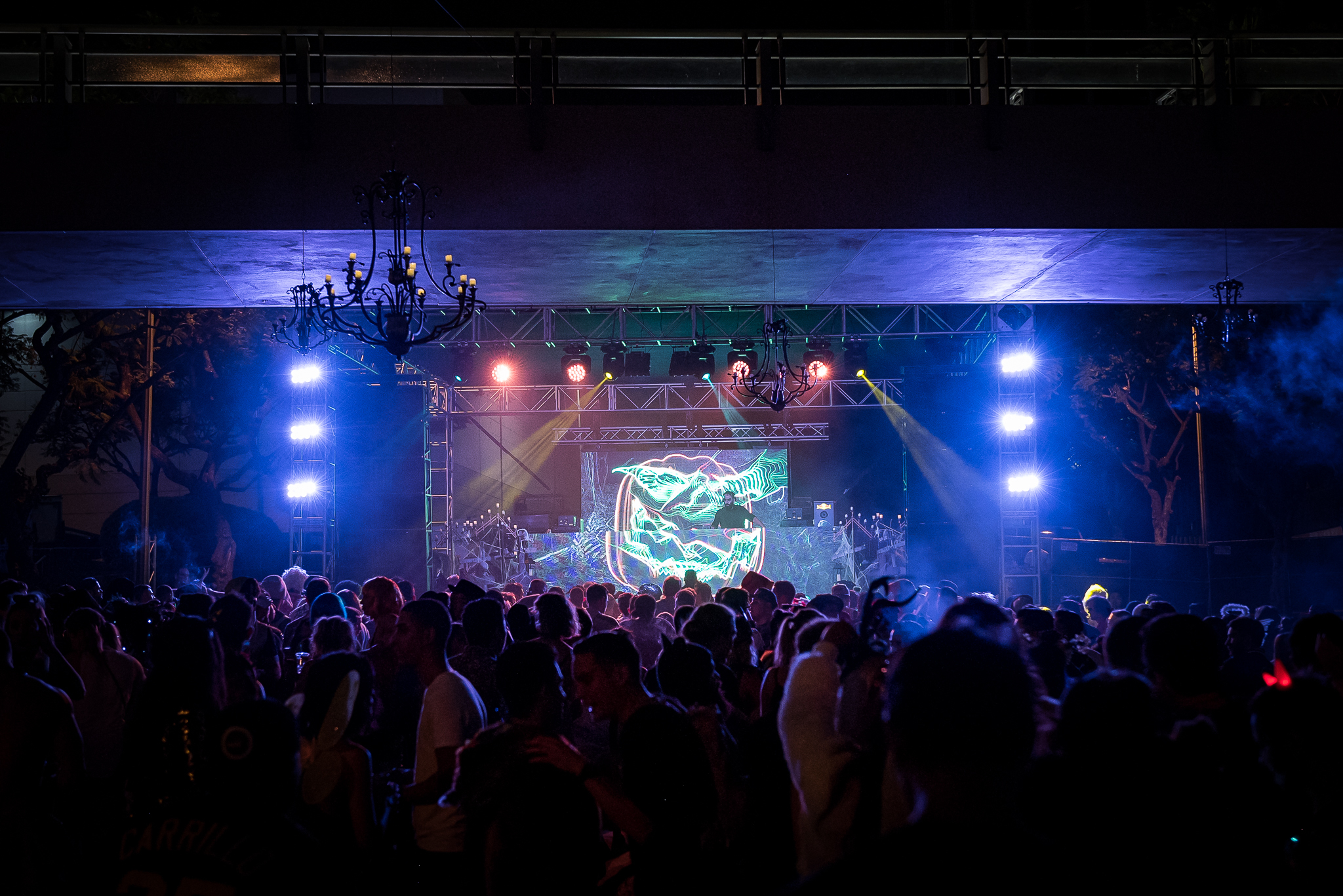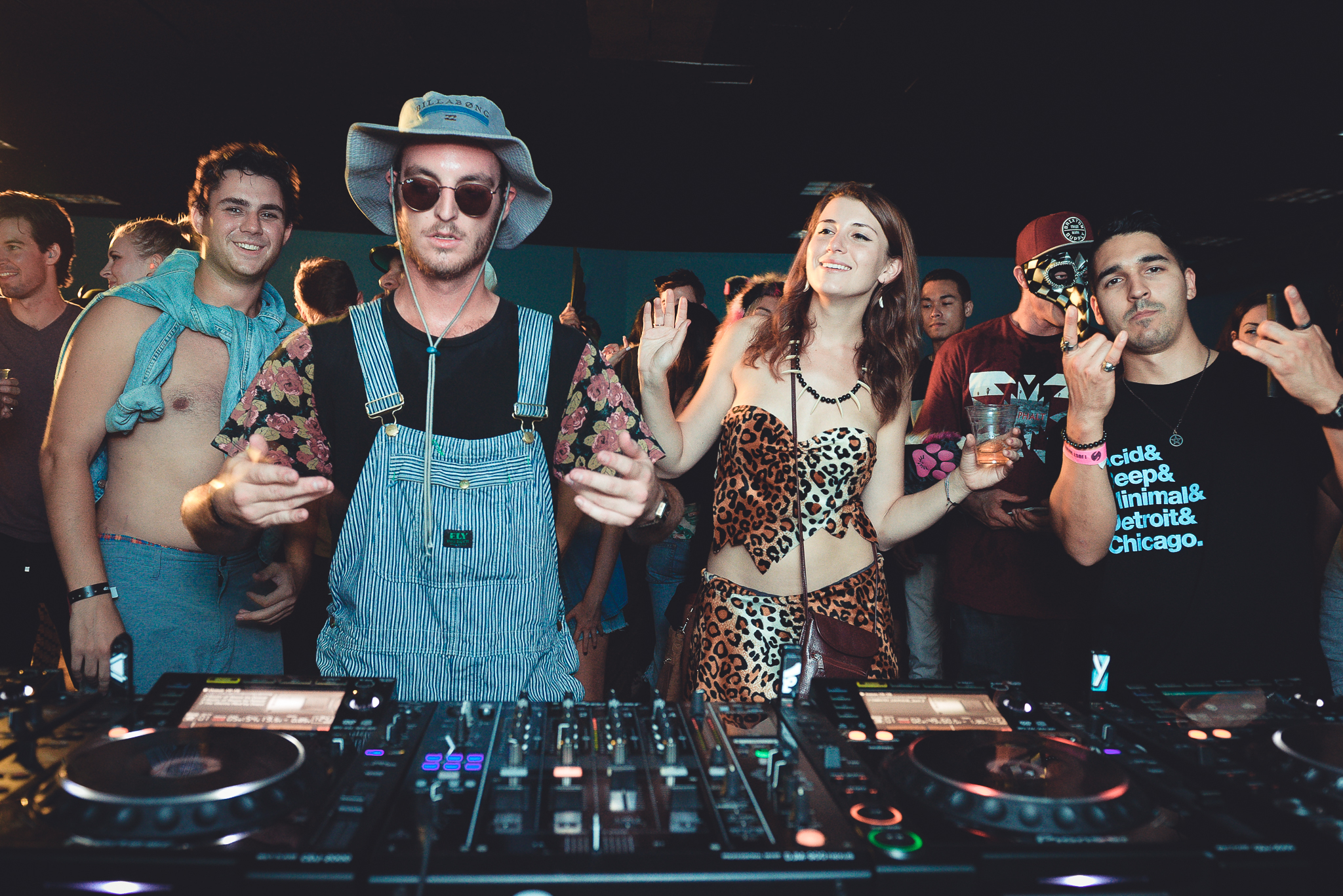 Minimal Effort kicked off its 3rd installment of their annual Halloween event with an impressive lineup and a big change in venue. Previously held at the Belasco, a 1920's theater which fit spooky Halloween vibes to a T, Minimal went down a completely different rabbit hole this year. The Center in Los Angeles is fittingly smack in the center of what seems like every building downtown. Although the new venue was the complete antithesis to their previous home, the views of the skyline can't be matched. Dancing there, one is completely immersed in high-rises, with 2 outdoor stages and one indoors.
With a lineup boasting top-tier talent from beginning to end, there was always someone great to catch at every stage. Guests who arrived early found that due to sound checks and technical difficulties, the party started an hour late. One of the stages did not open until around 8pm. There was a sense of confusion and minor panic over the thought that highly anticipated acts might not play. Those worries turned into an amazing energy once all the stages started going off in full swing. An array of food trucks and bars helped ease the nerves as well.
We started the night with Mark Farina, who always brings the house down with his never-ending stream of house music in its purest form. Always a bit nostalgic in his sets, Funkagenda's "What the F*ck" is a welcome throwback. He played the indoor stage, hosted by Spanish label Suara. What the stage lacked in Halloween decor, it more than made up for with its intimate vibes akin to a warehouse party. Suara label head and self proclaimed kitten lover, Coyu, also played the jam-packed stage with a raucous mix of house, techno, and acid.
The Garden stage truly shined on Saturday night. Kidnap Kid went all-in with progressive house grooves that are always a welcome change of pace from the thumping tech house usually permeating every inch of events like this. Later, London's own Orlando Tobias Edward Higginbottom, better known by his equally massive pseudonym, Totally Enormous Extinct Dinosaurs, took to the stage donning a head-to-toe Cookie Monster costume, delivering 90 groovy minutes of music spanning everything from house and techno, to garage, disco, and an instrumental version of The Human League's "Don't You Want Me."
Turbo Recordings label-head Tiga brought his live band to Los Angeles for one of it's first North American performances, bringing unmistakably Tiga hits like "Bugatti," from this year's "No Fantasy Required," "Let's Go Dancing," his collaboration with Audion (Matthew Dear), and classics like "Shoes" and 2006's "Pleasure From The Bass."
While Pete Tong is and will always be a legend, it truly was an exercise in futility to tear ourselves away from closing acts TEED and Tiga.
Highlights from the rest of the night included Jonas Rathsman, Steve Bug, Tensnake, Edu Imbernon, and Thugfucker, all with solid sets from start to finish. My one note would be that the sound needed to be cranked up a bit. But with lineups like these and an already hyped NYE event, it seems that whatever effort is being put in, the results are anything but minimal.
- Serena Romero
Gallery 1 -
Gallery 2 -
Glen Silva
Conner Coughenour