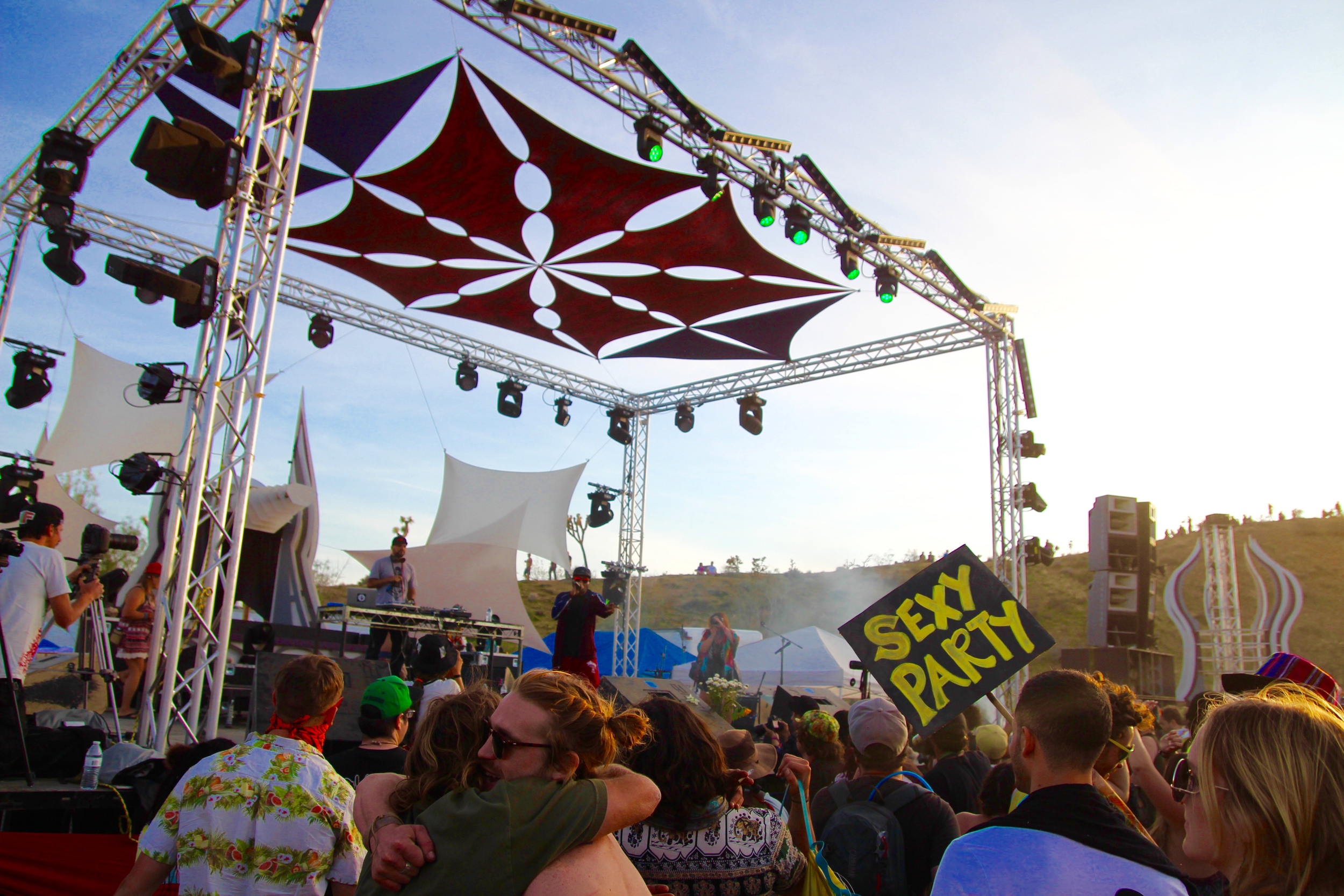 Coverage: Roger Coppola
Photography: Hannah Mendoza
The magic of Joshua Tree may manifest in many forms: a vibrant desert sunset, the surge of wildflower blossoms and wild grasses painted across a rich-brown backdrop, or the Joshua tree itself that stands stoic, seemingly alone. This landscape has a quiet mind and aggressive exterior, creating a captivating space for any festival. This past month, we ventured out to Southern California to catch a few of our favorite artists while they shared their talents at Serenity Gathering.
The festival was free-flowing with a renegade vibe. I never quite knew who was running the show, and neither did many of the vendors, artists, or attendees. Security patrolled the grounds, people-watching and scouting the occasional Wok who had dabbed out, while festival goers wandered in search of distant bumping beats. The layout was scattered with a central marketplace hosting the main stage and surrounding vendors. Delicious bites were served up by organic kitchens including the famous Lydia's, as well as the up-and-coming superfood company Imlak'esh Organics. The Imlak'esh food truck made its way down from Santa Barbara to share their amazing superfoods products and inspire us all to "Live Vibrantly". They hosted a menu that included Majestic Maca Smoothie Bowls, Dank Vegan Burgers, and a must try Raw Coconut Blissed-Out Cookie Sandwich. The Third-Eye Pinecone booth dished out brilliant necklaces by day and turned up the volume for after-hours DJ sets by night to keep the party going long after the main stage was quiet. The music never officially turned off however, and with tunes filling one of the many dance floors till 6am.
The New Moon stage founds its place amongst the boondocks. With a 360 degree view of the surrounding desert, it felt as if you'd stumbled upon a mirage. Tethered shades cooled a space warmed by FunktionOne Sounds. Low-end frequencies reverberated through the thirsty earth as attendees stomped the dust. Highlights included the likes of CloZee, Mumukshu, Terrakroma and the Moontribe crew. Dela Moontribe laid-down a legendary Drum&Bass set that inspired a sunset frenzy. With her mild-demeanor, Dela subtly bobbed with the step as she effortlessly wove tracks, making for seamless transitions between massive drops and gritty baselines.
The Bridge Family Stage was the beautiful creation of The Imagine Nation crew out of Los Angeles. TV Broken 3rd Eye Open brought the funk with their improvisational blend of psychedelic jazz and tribal sounds from around the world. This jam band from Burbank, California is a staple at Serenity Gathering and rightfully so. The Bridge Family Stage also saw the talents of Govinda, Lafa Taylor, and Stephan Jacobs.
A sage brush spotted hill cradled the main Serenity Stage and provided a perch for attendees to climb and catch a new perspective on the grounds and headlining acts. Lack of shade and intense midday heat thinned early acts, however the leaning afternoon sun welcomed a sea of woven threads to fill the space. LabRat impressed with his bass-heavy mix Friday afternoon followed by the passionate drumming of Big Wild to match.
Serenity organized several legendary acts to light up the main stage. Del the Funky Homosapien unleashed the classics reminding us that hip-hop is indeed not dead, and inspiring a sense of nostalgia in us all. His politics-heavy lyrics are timeless, but seemed particularly relevant in these times of political upheaval. Other headliners including Desert Dwellers, Phutureprimitive, and Sphongle were not shy to utilize many of the talented fire-dancers, silk aerialist, and professional flower arrangers (!) to translate sound into movement and provide top-notch performances to accompany the music. Pimps of Joytime lived up to their name as they waved the sun goodbye on Sunday with their pimp-hands strong. Seemingly the festival had caught up with the organizers come day-3, however, as consecutive acts were pushed back due to technical difficulties, forcing many of the final acts to be displaced to alternative stages.
Luckily, this did not interrupt the unfailingly amazing Pumpkin as he unknowingly played his last live set on Sunday night. The beloved DJ was tragically killed in a car accident the following week on his way to Head for the Hills Music Festival in Kerrville, Texas. A dear friend and a beautiful soul, Pumpkin will be dearly missed by all.