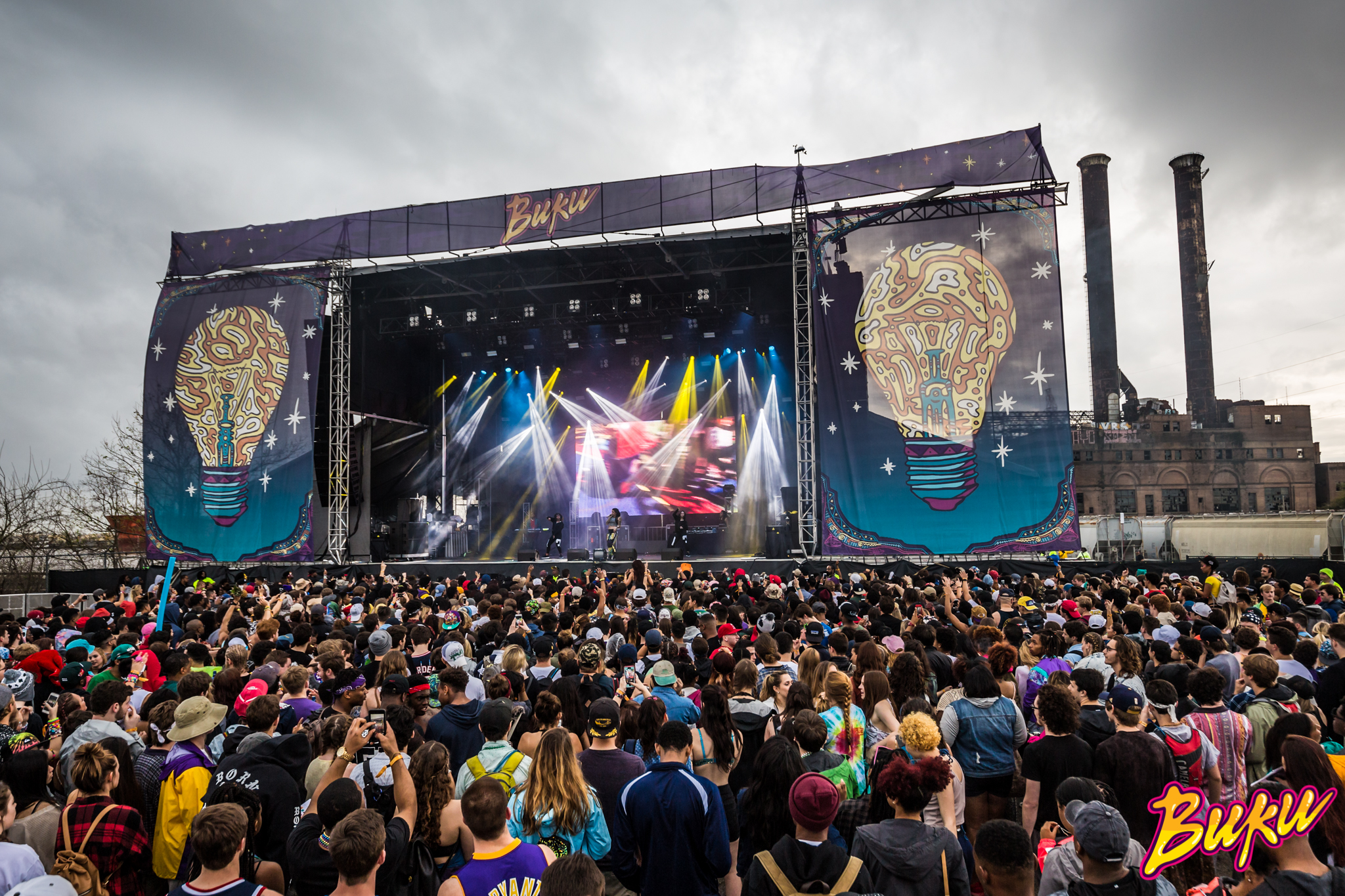 Coverage: Garrett Hazelwood
Photography: Lauren Rackley, BUKU/ALive
Off Tchoupitoulas, between the train tracks and the Mississippi River, Buku Music Festival kicked off its fifth year of auditory bliss this past weekend. In a city renown as a mecca for music, Buku has established itself as one of the highlights of New Orleans' annual music calendar. But contrary to tradition, this festival eschews the jazz and blues for a lineup that winds it's way from deep house to indie rock to hip-hop and future funk, without ever missing a beat.
This year's headliners included GRiZ, Pretty Lights, CHVRCHES, Kid Cudi, Cashmere Cat, Above & Beyond, and Aluna George, along with dozens of other acts that kept all four stages occupied for two ten-hour days of non-stop performance. The venue sprawled out across an industrial district in the Lower Garden District, with stages in a vaulted ballroom, a massive warehouse filled with Mardi Gras floats, an alleyway just feet from the Mississippi, and an outdoor lot backdropped by the towering brick smokestacks of an abandoned power plant.
Though inner-city commuter festivals like this one tend not to have much in the way of community, Buku makes an effort to keep the "Bukulture" strong by building communal chillout areas, like the giant hammock they strung up between two storage containers and the seating area they installed alongside the river. Despite the sprawling festival grounds, there is an intimacy to the venue, particularly at the Back Alley stage, where DJs spun beneath a stack of wooden pallets as barges passed within a stone's throw in the light cast by the Crescent City Connection Bridge.
There were also a few surprise shows in the central areas between stages, where local street performers rolled out a few speakers, plugged in, and had at it. One of these, a performance by "New Thousand," was undoubtedly amongst the highlights of the weekend for those lucky enough to be passing when it happened. A mad violinist with a foot pedal, a keyboardist, a guy on a touchpad synth, and a hang drummer playing to a crowd of about fifty of us brought the energy to a peak that rivaled even the main stage performers. (These guys don't have much web presence, but they're well deserving of a wider audience. Check out their Facebook here.)
Of course, the headliners certainly didn't disappoint. Though acoustics in the warehouse left something to be desired, GRiZ brought down the house mixing his heavy bass lines and fat drops with that signature sax. His Friday night performance also brought in an electric guitar, a female vocalist, and some fancy work with the trumpet. On the outdoor stage, Kid Cudi sang to the light of a thousand cell phones held aloft in the crowd, while as many voices in the audience sang along to "Day'n'Nite." For those looking for a heavy helping of whomp, Baauer brought the trap and turned the bass up to eleven.
Those with milder dispositions enjoyed bobbing heads to BØRNS' mellow indie rock. But there were few opportunities for down-tempo, and it wasn't long after nightfall when Pretty Lights put on a live band performance that those in attendance will be talking about for quite some time. Many of the weekend's best shows, though, were seen by smaller crowds, with the artists connecting up close and personal. Casey Veggies brought his A-game flow, CRWNS threw down with some heavy drops in his up-tempo trap as a light rain fell at sunset, and Tokimonsta slayed her set with characteristic steez, though relatively few were there to see it.
Supporting this stellar lineup of musicians, the Buku Krewe ran a sharp festival, with every performance going off exactly on time and the grounds staying clean and friendly throughout the weekend. And despite being set-up similarly to LA's FYF Fest, the NOLA crowd kept the vibes unpretentious and down-to-earth.
A young festival with young event staff and a mostly college-age crowd, Buku is just getting started and already one of the premier festivals in the South. As they continue to grow and attract bigger names and attendance numbers, this is certainly a festival to keep an eye on. If they can manage to weather the growing pains without losing that spark of community that seems about to bloom, Buku has a bright future.