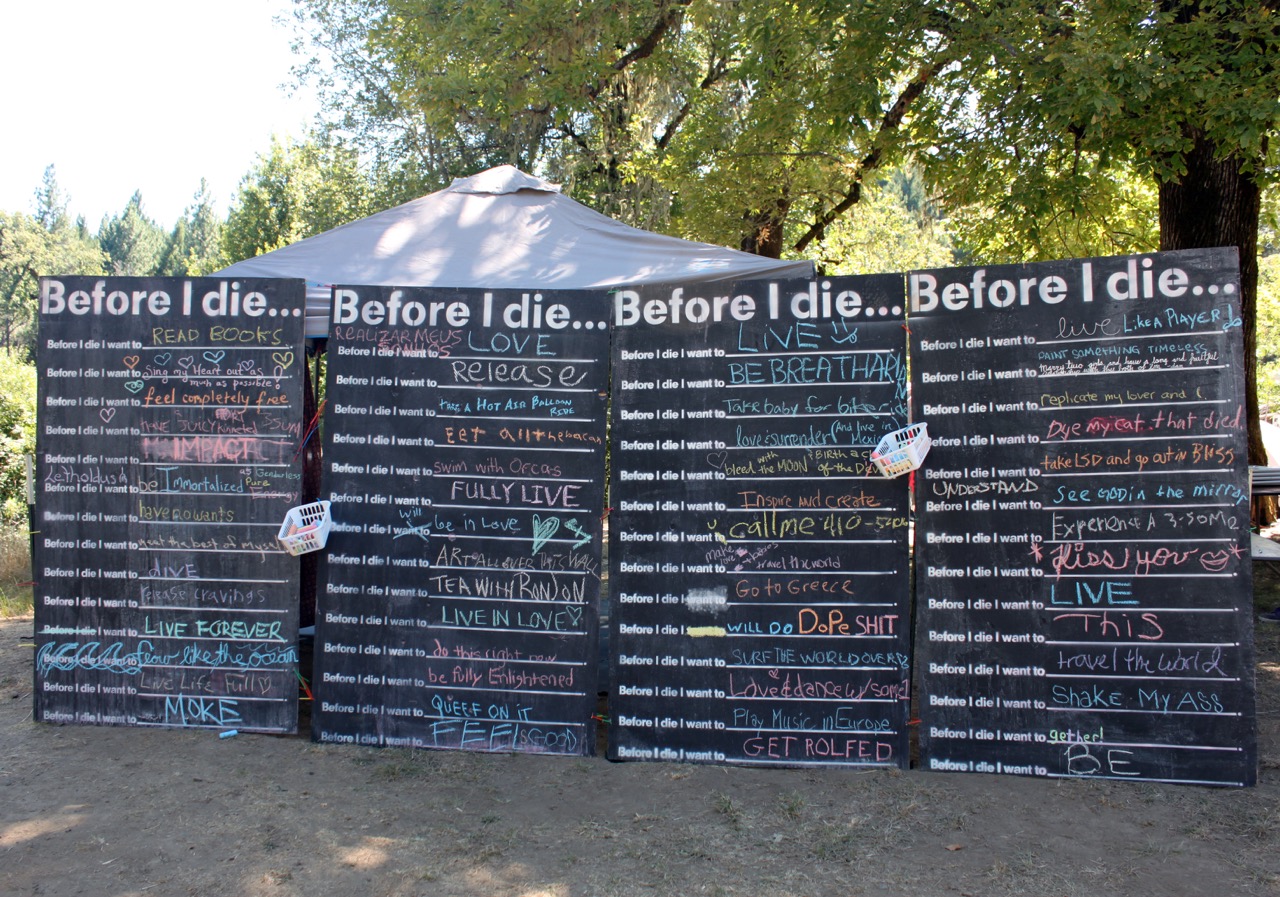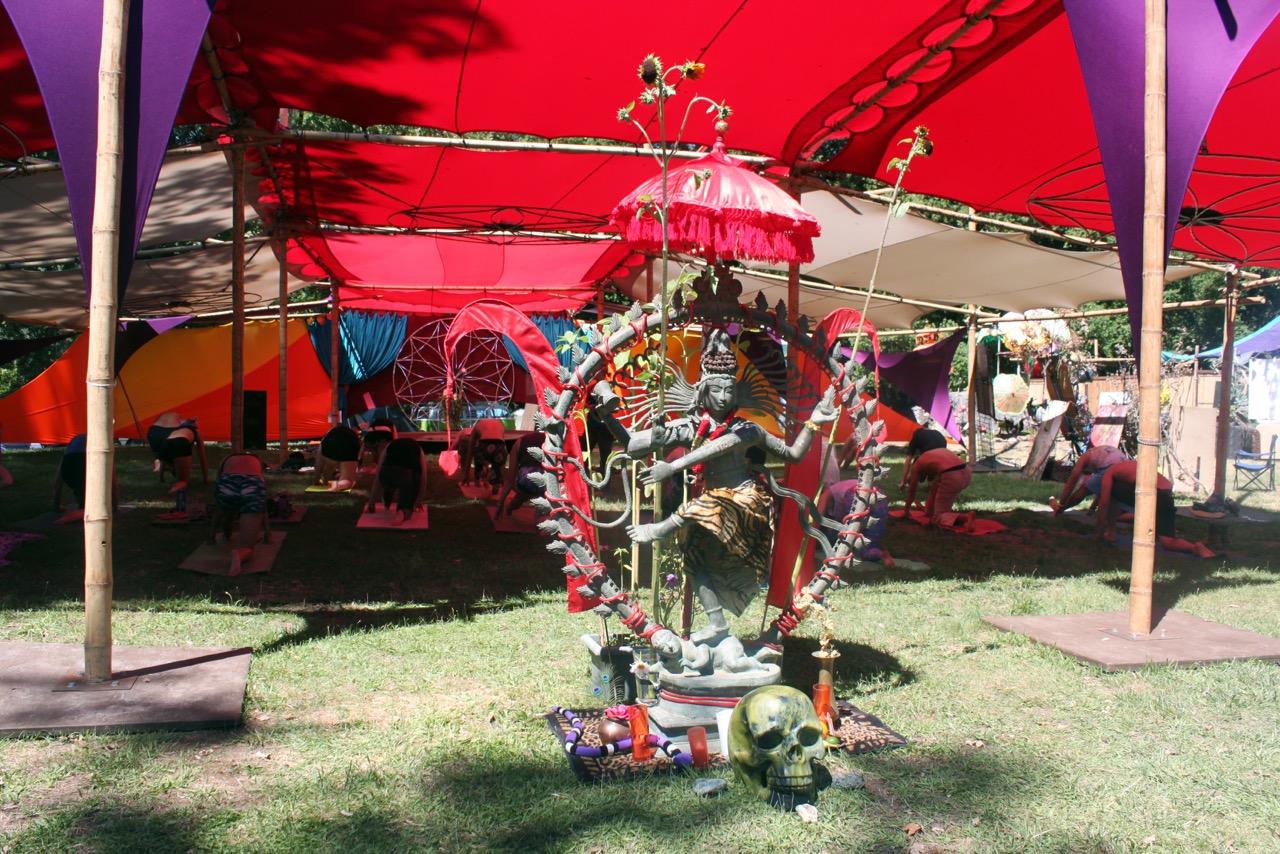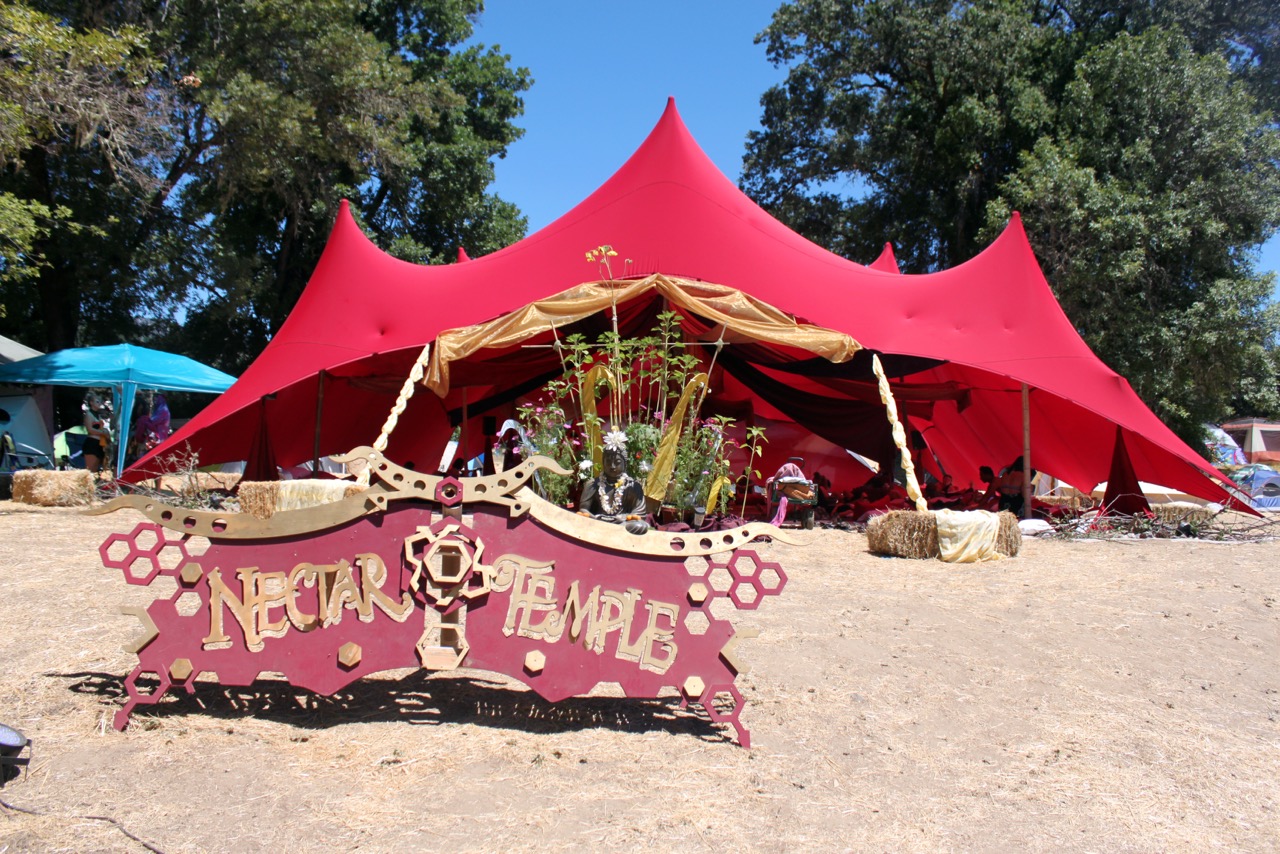 WORDS BY JOHN KARLO TORRES
I don't know if you noticed but there is an emerging #trend among music festivals where camping, getting fucked up, and listening to incredible music is no longer enough to satiate the masses. Whether it's the booming popularity of Burning Man, or social-media-induced disconnection, something is happening. Immersive, interactive experiences are becoming the standard for escaping the grind, and Enchanted Forest Gathering embodies this trend.
I have been to my fair share of festivals and know the formula pretty well, but EFG reminded me that expectations are just that. Before stepping onto Black Oak Ranch in Laytonville, CA, I knew a few things about the gathering that perked my ears like a dog hearing the crinkling of a wrapper. One, you get to party – but in an alcohol-free environment. Two, there will be people there – but less than 3,000. Three, there is a prison for nipples – but this magical land is a safe space to #FreeTheNipple. And Four, cannabis is medicine – and your local pharmacy is going to party with you. These very four things broke the formula completely, and perfectly set the tone in line with the festival's pillar of "cultivating clear and conscious connection."
Somehow I managed to get there perfectly on time when the Box Office opened on July 22 at 9:00AM and wait in a line much shorter than you would see at some trendy new chicken sandwich joint in the city. You might like waiting over an hour for some chicken like a masochist, but dealing with virtually no line really kept me in a great mood. The best part of my inaugural morning was the sweet older gentleman who directed me to parking and wished me an enchanted weekend. When was the last time someone wished you an enchanted anything!? I was happy to be there to say the least. This no-line business was incredible and thanks to the gathering's participant cap, there was no waiting for most of the weekend.
You know that feeling when you are having a great time at a festival and you start to feel that pressure in your stomach and try to trick yourself you don't actually have to take a shit? Well, you do, and lucky for everyone, there was NO LINE at the porta potties! I mean, that alone is something to celebrate. You get the idea: no one had to wait for much all weekend long. The delicious yummies found in the Nourishment Nook, the rad crystal-infused clothing in the Magickal Marketplace, and the hydrating drinks at the various Elixir Bars were all readily available when the cravings hit. The number of people was just right for me and you could really feel the intimacy it created. It was much easier to enjoy everything the gathering had to offer because time felt slower, people more engaged and aware.
Once settled into the beautiful oak speckled land and putting my sexy, "I wish I would wear these clothes more often" outfits on, I started to feel the importance of Enchanted Forest Gathering's ethos. There were plenty of moments when I wanted a cold beer, some whiskey to loosen up, a bloody morning, but was happy to leave it all behind. This is probably the only festival I remember every single moment. It is a place where my morning started shortly after sunrise and not mid afternoon when one attempts to pick up their hungover, sickly body off the ground. Not having to deal with the aftermath of heavy day-into-night drinking made yoga effortless and I didn't waste any time feeling like death. There wasn't ever a moment where I had to dodge a belligerent drunk, translate meaningless ramblings, or step over puke. Thanks to being a sober sally I was able to participate in Shayna Zane's Chakra Flow, Pete Guinosso's Morning Cup of Vinyasa, and witness from a distance Live Music Vinyasa by Drishti Beats, which had the entire class completely activated. The Namastage Yoga tent in which these classes were held was beautiful. Not only did people leave their sweat behind, others left offerings at the Shiva Dharma alter that welcomed yogis to the space.
EFG's value of "self-actualization through the process of sharing our gifts" was live and well with an entire Wisdom University & Community Center packed in with yoga and workshops all day. From workshops like Make Love Like a Goddess, Therapeutic Lap Dancing, 50 Shades of Yes, to Ritual Magic, Super Power Elixirs, and Banking with Bitcoin, the shared gifts were bountiful. I didn't spend much time in this area; I kept getting there mid workshop times and just didn't feel comfortable walking in after a class had started. While at the Center, I did witness a man and a women naked using body paint to decorate their bodies and thought that was pretty fun. I guess the lesson here is that no one is too old for body paint. Another area where gifts were shared was the Flow Zone, which was home to hooping, poi, staff and wand spinning, and other forms of movement. I stood around Mel Blue Moon's Weird Hoop Rolls workshop and played with a hoop on the side lines while actual hoop dancers learned some new moves. There was nothing weird about the hoop rolls, they were all beautiful and visually pleasing. I was the weirdest part of the workshop tossing a hoop around and chasing it like a run-away toddler.
The campsite I called home for the weekend turned out to be an ideal spot. 50 feet away, the Swimmin' Hole Stage played deep bass music and kept people dancing while the main Mighty Oak Stage rested for nights arrival. It was called the Swimmin' Hole because it was adjacent to the river that kept everyone cool throughout the day. Nothing makes a festival better than access to water and the river was a daily party. Some notable EDM artists who played the Hole were Psy Fi, SOOHAN, and my favorite Champagne Drip. Opposite the stage was a convenient Elixir Bar where you could enjoy Revive Kombucha, ice cream, coffee, coconut water, and my new obsession Brilliant Elixir - "At Brilliant Elixir, we craft botanical beverages that deliver delightful sensations without the use of alcohol or harmful additives. Our mission is to promote a culture of healthy social drinking and to deliver beverages that enhance our lives. Our mantra: Shine tonight... and tomorrow!" These 100% plant-based botanical elixirs were so tasty and definitely the hit sauce of the festival. If you come across this beverage I recommend the Chocolate Lover.
Despite not drinking, there was another nap-inducer present at the gathering, the Sun. There is only one way to put it, it was fucking hot. Dancing, running around, and doing yoga in 90 degree weather really takes it out of you. The festival did a great job of providing drinking water stations all throughout the grounds and the river was the perfect way to chill the body quickly, but two micro-environments saved my life, the Nectar Temple and the Saucy Spa. Two very different environments but both served the same purpose for me, escaping the heat. The Nectar Temple was a huge, beautiful, flowy tent that kept cool throughout the day and was adorned with dozens of pillows and tired, napping bodies. It was an experience of the gods and a space to rejuvenate and heal. I am unsure of the frequency as I was drifting in and out of peaceful nap land, but every once in a while, someone would come around and spray cold water infused with rose essence and it was amazing. You probably know what a buffer is and you surely know what a body is, but did you know that they make body buffers?! The place was littered with body buffers small and large and if you have never had your entire body buffed before, I highly recommend you get on Craigslist right now and hire someone. Or better yet, start planning on going to Enchanted Forest Gathering in 2017. By far the most entertaining way to stay cool was the Saucy Spa. At first glance the madness coming from the Saucy Spa area looked straight out of an MTV spring break video where music and foam came together and people were in ecstasy. EFG's newest addition was ALL DAY shower parties in collaboration with Dr. Bronners Foam Tub and special guest DJ's. They were power blasting music and cold water Bronners foam all day to keep people cool and energized. Some people were naked dancing, others were legitimately showering, but everyone was having an insane time, a definite highlight of the weekend.
Enchanted Forest Gathering was quite simply, enchanting. In comparison to other festivals it would be considered a small gathering but was in fact a big production. I was excited to see one of my fav musical artists Thriftworks and was pleasantly surprised on Friday night at how mellow his set was. Jake Atlas really set the mood on the Mighty Oak Stage and that feeling carried over throughout the weekend; this was an intimate gathering. Saturday morning welcomed me with the most incredible sound that radiated throughout the Ranch. AtYyA was the first amplified sunrise set and what a perfect way to start the day. If only everyday started out with deep alluring basslines and futuristic ambiance, we would all be a much happier people. Saturday was definitely the day of dance and mind-altering music. Welcoming the incredible night-lit sky was Polish Ambassador and the amplified sets ended with headliner Shpongle or more precisely, Simon Posford. If the Mighty Oak Stage set hadn't already blown you away with its elaborate design, Shpongle's visual arts brought the stage to life and they were immaculate. By far the most enchanted visuals I have witnessed even topping the Shpongletron I saw at a Los Angeles show in 2011. EFG set the bar high for me when it comes to stage sets; I was lost in the giant arms of the radiating rays that enclosed us all into the space. The nights continued with late night silent disco sets, more Brilliant Elixirs, coconut water, and ecstatic dancing.
Sunday was the dreadful goodbye for me but luckily I had Bluetech to start my day with another incredible sunrise set. Before leaving, I casually walked to every stage, every micro-environment, and every nook to bid my farewells. This was an hour's long process but the constant nagging of the impending departure was hard to shake. Yoga, the river, the muddy misting station all provided temporary relief but the facts were real, it was my last day. The last time I was at Black Oak Ranch was in 2009 for Earth Dance and I felt like I had gone back to visit an old friend; an old friend that takes tender-loving care of me and my friends and provides us with a sense of gratitude and empowerment. This year was the 6th annual Enchanted Forest Gathering and I am happy to be a part of the enchanted family.